La Perla (Once)
La Perla, sitting right on the corner of bustling Plaza Miserere, owes its place on the list of Notable Bars and Cafes, not for being an especially notable bar or cafe, but it's all down to a song – one that is generally considered to be the greatest Argentine rock song of all time.
[youtube https://www.youtube.com/watch?v=Yv9PnHsEGas]
La Balsa (The Raft) by Los Gatos was released in July 1967 and sold over 250,000 copies, finally giving Argentina their answer to the Rolling Stones and kickstarting the Rock Nacional movement which is still going strong today.
La Perla's role in all this took place a couple of months before the record hit the stores, because the song's two authors, Tanguito y Litto Nebbia, were inspired to write the song in La Perla itself, more specifically in the gents toilets.
What possessed them to spend that long in the toilet of a pizzeria in Once is lost in the mists of history, but what emerged is a classic of Spanish-language rock and La Perla is certainly making the most of its accidental role in its history.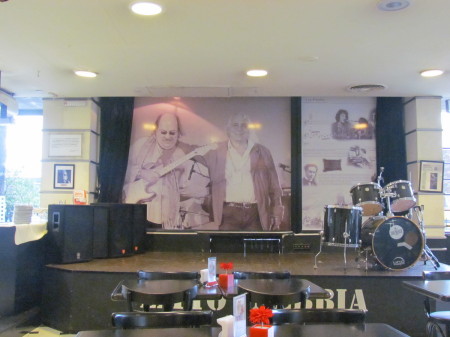 Whilst the place itself is not especially memorable, they are clearly proud of their (self-proclaimed) status as "the Birthplace of Rock Nacional". The song's co-author Litto Nebbia still plays at La Perla every Friday and it's no doubt turned into a pilgrimage for both die-hard and curious fans alike. La Perla is an unusual slice of Argentine history and as such deserves its Notable status.
Cafe de los Angelitos: Jujuy 36
Subte: Plaza Miserere, Line A
This page is part of a series examining the Notable Bars of Buenos Aires.